Northern Ireland Childrens Commissioner visits Knockloughrim Primary School
14th Oct 2014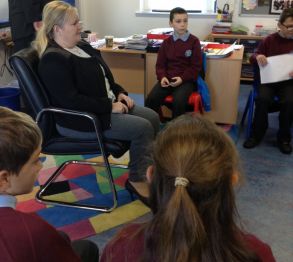 Today the Northern Ireland Commissioner for Children and Young People, Mrs Patricia Lewsley-Mooney visited Knockloughrim Primary School and met with the elected Pupil Council and pupils in Primary 6 & Primary 7.
Mrs Lewsley-Mooney discussed a wide range of issues relating to our children's lives including: litter and antisocial behaviour within their community, the impact of the recession on the lives of the children and their families, the difficulties of life in a rural community and the work of the Children's Commissioner in Northern Ireland.
Mr. Wysner commented, "Throughout her term of office the Children's Commissioner has been a strong advocate for all our children in Northern Ireland and as a UNICEF Rights Respecting School, we were delighted in Knockloughrim Primary School that Mrs Lewsley-Mooney could make time to visit our school, talk to our young people about her role and the importance of our young people's voice in positively impacting upon their lives."
The Children's Commissioner went on from Knockloughrim to Magherafelt District Council where she met with the Chief Executive and Chair of the new Mid Ulster super council.
Knockloughrim Primary School, 337 Hillhead Road, Knockloughrim, Magherafelt, Northern Ireland BT45 8QT | Phone: 028 7964 3407